Introduction
The Johor Royal family's roots date from the early 16th century. In 1528, Sultan Alauddin Riayat Shah, a descendent of the Malacca Sultanate, founded Johor and set up his royal residence in Johor Lama. His dynasty ruled Johor until the demise of Sultan Mahmood in 1699, who was said to have been assasinated by Megat Seri Rama (Laksamana Bintan). As Sultan Mahmood did not have a legitimate heir, the management and administration of Johor was transferred to the Bendahara Dynasty. The Bendahara Dynasty comprised ministers who had previously served the Malacca Sultanate. The Johor state capital is said to have moved up to 20 times along the Johor River and was even located in Riau Island at one time because of war strategies and to maintain authority over trading in the region.
In 1769, Sultan Mahmud III was crowned the Sultan of Johor-Riau and had appointed Temenggong Abdul Rahman as the Temenggong of Johor. The British acknowledged Temenggong Abdul Rahman Ibni Temenggong Abdul Hamid as the legitimate Temenggong of Johor-Singapore. This marked the start of the Temenggong Dynasty that later ruled Johor. In 1819, the British appointed Sultan Husain, the eldest son of Sultan Mahmood III as the Sultan of Johor-Singapore. The son of Temenggong Abdul Rahman, Temenggong Daeng Ibrahim, was then appointed as the Temenggong of Johor after the demise of his father in 1825. The British only recognised his appointment 14 years later. On 10 March 1855, the Sultan of Johor, Sultan Ali Iskandar Shah ceded the Johor state and government with the exception of Kesang territory to Temenggong Ibrahim via a treaty. The demise of Sultan Ali on 20 June 1877 marked the end of the Bendahara Dynasty. Temenggong Ibrahim had also founded the Iskandar Puteri at Tanjong Puteri in 1855. As such, it can be said that the modern Johor Sultanate was established by Temenggong Ibrahim and further consolidated by Sultan Abu Bakar.
Johor Government under the Temenggong Ruler
Temenggong Daeng Ibrahim
Temenggong Daeng Ibrahim became the next Temenggong of Johor after the demise of his father, Temenggong Abdul Rahman, on 8 December 1825. Temenggong Daeng Ibrahim's ingenuity together with the support of the British led to Johor being handed over to him by Sultan Ali through a treaty signed on 10 March 1855. This marked the start of the modern Johor Sultanate under the Temenggong Dynasty. The British had wanted Johor to support Singapore's growth as an international trade centre. British interest in Johor led to it becoming a centre for the production of pepper and gambier through the implementation of the Chinese Kangchu system and Javanese Labour Contract system by Temenggong Ibrahim.
The year 1855 marked the starting point of the modernization of Johor. Temenggong Ibrahim established Iskandar Puteri as Johor's administrative centre by building police stations, courthouses and other government departments. To speed up Johor's development and to ensure peace and harmony within the state, he rid the state of piracy and promoted education among the Malays.
Temenggong Daeng Ibrahim passed away on 31 January 1862 and was laid to rest at the Temenggong Cemetery in Teluk Belanga, Singapore.
Sultan Abu Bakar
Sultan Abu Bakar was born on 3 February 1833. He ascended the throne as Dato' Temenggong Sri Maharaja Johor in 1862 after the demise of Temenggong Daeng Ibrahim. He changed the name of Iskandar Puteri to Johor Bahru in 1866. In 1868, he truncated his title to Maharaja. He redesigned the Johor State Flag and Royal Standard in 1871. He strengthened Johor's sovereignty as Kesang was officially placed under his rule in 1877. The Anglo-Johor treaty signed in 1885 with the British cemented his position and that of his future descendant to the throne of Johor and recognised as Sultan of Johor. Following the treaty, he established the Johor Military Forces.
Johor Bahru city and the state of Johor continued to develop under the leadership of the first Chief Minister of Johor, Dato' Jaafar Muhammad. Various government departments were established. Among them were the Treasury, Police Force, Land and Survey Department, Public Works, Maritime Department, Johor Arsenal, Medical Department, Postal and Education Departments. On 14 April 1895, Sultan Abu Bakar promulgated the Johor State Constitution, making Johor the first Malay state to have a formal and written set of laws.
Pepper and gambier were commercially cultivated by bringing in Chinese farmers and Javanese labourers. In 1883, the Education Department was established to expand Malay children's education in Johor. Sultan Abu Bakar was crowned in 1886 and wore a crown that he commissioned. He was also the first in the country to introduced state orders of chivalry such as the Darjah Kerabat (Royal Family Order of Johor) and the Darjah Mahkota Johor (Order of the Crown of Johor).
Sultan Ibrahim
Sultan Ibrahim was born on 17 September 1873 (25th Rejab 1290) at the Bidadari Palace in Singapore. He was brought up in a manner suitable for a future king. When he was 17 years old, his father Sultan Abu Bakar sent him to further studies in Europe so that he would gain experience that would help him in his future role. Sultan Ibrahim was crowned the Sultan of Johor on 7 September 1895. To further expand his knowledge as the Ruler of Johor, he frequently travelled to Europe, Japan, China and the United States of America.
Under his reign, Johor's railway line was completed in 1908 while the Johor Causeway which connected Johor Bahru and Singapore was built later in 1924. Sultan Ibrahim was very concerned about the future of his subjects and mandated via the Compulsory Education Enactment 1902 that all children must receive education. He was also concerned about the growth of the Malay language. To show his support, he became the patron of the Pakatan Bahasa Melayu Persuratan Buku DiRaja (P.B.M.P.B Di-Raja) of Johor. Islamic studies were further enhanced with the establishment of religious schools and mosques. On 2 February 1900, the Abu Bakar Mosque was officially opened. The 'Bangsa Johor' song became the official state anthem and is sung in schools and at official ceremonies.
Although the Sultan was intimidated by the British to appoint D.G. Campbell in 1910 as an Advisor, he stood his ground and appointed him only as General Advisor unlike the other states which had Resident Advisors. He also insisted that Malay officers be given the same status as their British peers. In addition, he also decreed the Malay language as the official language of the government and emphasised the usage of Jawi (Arabic script) in government correspondence. The Sultan Ibrahim Building in Bukit Timbalan that housed the government departments was completed in 1941. On 17 September 1955, a Diamond Jubilee celebration was held to commemorate 60 years of his reign. After 64 years ruling Johor, Sultan Ibrahim passed away in London on Friday, 8 May 1959 and was laid to rest at the Mahmoodiah Royal Mausoleum in Johor Bahru.
Sultan Ismail
Sultan Ismail Ibni Sultan Ibrahim was born on 28 October 1894 at the Semayam Palace in Johor Bahru. On 7 September 1895, he was appointed the Tunku Mahkota of Johor (Crown Prince of Johor). On the demise of his father, Sultan Ibrahim in London on 8 May 1959, he was proclaimed as the Sultan of Johor. He was crowned on 10 February 1960. During his reign, Johor's prosperity grew.
Sultan Ismail received his Malay and English early education in Johor Bahru and continued his studies in England together with his two siblings and Onn Jaafar in 1904. He returned to Johor in 1910 and studied at the Malay College Kuala Kangsar.  He once again left for London to study state administration in 1913.
Prior to being crowned Sultan, Tunku Ismail also performed the role of Regent several times and fulfilled important duties related to state affairs. He inaugurated the Malay Congress on 11 May 1946 at the Istana Palace in Johor Bahru that led to the establishment of UMNO. Tunku Ismail's role was recognised during a large parade held on 8 June 1946 to celebrate Britain's success in regaining Malaya after Japan's surrender.
The Sultan always paid special attention on the development of Johor. He established the Perbadanan Pembangunan Ekonomi Negeri Johor (PKENJ) which is now known as Johor Corporation (JCorp), the South-West Development Authorities (KEJORA), West Johor project, the Federal Land and Development Authorities (FELDA), the Federal Land Cooperation and Rehabilitation Authorities (FELCRA) and the Pasir Gudang Port. Senai Airport started its operations in 1973. He also established the Islamic Religious Council to further develop the growth of Islam in Johor. Sultan Ismail passed away on 10 May 1981 (6 Rejab 1401 Hijrah) and was laid to rest at the Mahmoodiah Royal Mausoleum in Johor Bahru.
Sultan Iskandar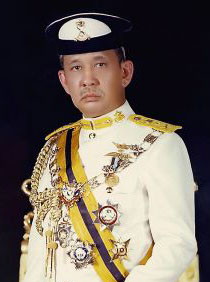 Sultan Iskandar was born on 8 April 1932 at the Semayam Palace in Johor Bahru. He received his early education at the Ngee Heng Lower Primary School and his secondary education at the English College in Johor Bahru. In 1952, he left for Australia to further his studies at the Trinity Grammar School. Upon completion of his secondary education, he continued his higher education in the Isle of Wight, United Kingdom. He was crowned the Tunku Mahkota of Johor (Crown Prince of Johor) in May 1959.
Sultan Iskandar was proclaimed Sultan of Johor on 11 May 1981. On 12 December 1981, he was appointed the Chancellor of the University of Technology Malaysia (UTM) in Skudai, Johor. From 9 February 1984 till 1989, he was appointed the eighth King of Malaysia. Johor continued to develop tremendously under Sultan Iskandar's reign in infrastructure, housing, economy, education and religion. The South Johor Region Development known as Iskandar Malaysia was officially launched by Sultan Iskandar. The new Johor Administrative Centre in Nusajaya, known as Kota Iskandar, was officially launched by Sultan Iskandar on 16 April 2009 (20 Rabiul Akhir 1430 Hijrah).
Sultan Iskandar passed away on 22 January 2010 after a long and prosperous reign and was laid to rest on 23 January 2010 at the Mahmoodiah Royal Mausoleum in Johor Bahru.
Sultan Ibrahim
Tunku Ibrahim was appointed the Tunku Mahkota Johor on 3 July 1981 when his late father, Sultan Iskandar was proclaimed the Sultan of Johor. Tunku Ibrahim was then appointed the Regent on 25 April 1984 until 25 April 1989 when Sultan Iskandar was appointed the eighth King. While serving as the Regent, he took the opportunity to gain as much knowledge as a Ruler as well as spending much of his time with the people of Johor.
On 23 January 2010, Tunku Ibrahim was proclaimed the Sultan of Johor upon the demise of his father, Sultan Iskandar.
HRH Sultan Ibrahim  is married to Her Royal Highness Raja Zarith Sofiah Binti Almarhum Sultan Idris Shah and is blessed with six children, five princes and a princess.
Being a descendant of Temenggong Daeng Ibrahim, he has the spirit of a soldier and excel in sea activities and other extreme sports. At the age of five, he had already driven a speedboat in a competition. He is capable and is licensed to pilot jets and helicopters. He is also the only Malay Ruler to have a train driving licence. A capable horseman, HRH Tuanku Sultan Ibrahim is also an agile polo player. HRH Tuanku is also a Malay Ruler who explores every corner of the state each year to get close to his people through the Mahkota Adventure Programme (Program Kembara Mahkota) since 2001.